MyRadar weather and information app has added a wildfires layer, allowing fire managers and community members to better prepare for storm-based changes in fire behavior.
This new overlay highlights documented wildfires across the United States and includes specific details on each fire including their intensity. The data is curated from key US sources, including the United States Geological Survey, Inciweb, the the Risk Incident Information Management System by the United States Forest Service and others, and highlights those areas on the map with an icon.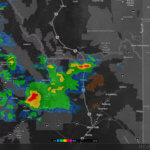 Where fire boundaries are available, MyRadar will draw the fire shape on the map (see the "orange" perimeter in the screenshot, with thunderstorm approaching from the southwest and wind layer on).
Users can then tap on each fire to bring up additional information about the fire, including containment status, initial cause (if known), size of the fire, and a greater detailed narrative from the firefighting agency, when available.
"The Wildfire layer can be an invaluable tool to help stay on top of the latest danger zones around the country," said Andrew Green, CEO of the app developer, ACME AtronOmatic.
"When used with the animated surface Winds layer that MyRadar provides, it helps residents and fire managers gain an understanding of the natural forces driving the fire and can even help municipalities plan for air quality concerns."
MyRadar receives US radar data directly from individual radar stations, and processes that data on its own server farms in real-time to render an accurate, up-to-date weather picture available on any mobile device. This direct access to weather telemetry opens up capabilities that allow MyRadar to work with the raw data, sharing innovative services directly to user fingertips.
Green added that the tool might prove its utility on rapid fire events, such as the Carr Fire in the Redding, California area. Green observed that "'fire tornadoes' or, more aptly a 'fire whirl' or 'fire devil,' are not a real meteorological event, it is instead a highly localized physics observation that is caused by rapid, centralized heat swirling upwards in the air – and as such, it's not likely that it would be picked up on radar. However, the surface winds feature can be extremely helpful in gauging the effects of nature on the spread of a large fire. The animated winds layer plainly shows which direction the surface winds are flowing, and at what strength. This data can help gauge which areas may be at risk from a spreading fire."
A secondary tool is the photo feature, which would allow residents and officials to share geo-tagged photos of the fire to help raise situational awareness among the population in the area.
MyRadar is a free weather and environmental information app, available for iOS, Android, Windows, and Android TV. In the app store since 2008, the app has been downloaded over 45 million times.
Downloads at Android and IOS stores, and www.myradar.com.